The image rights portal, Copytrack, has set itself the task of fighting image rights infringements worldwide and strengthening the rights of photographers. With the help of our online portal, Copytrack makes it easier for copyright owners to detect and combat image theft on a global level. One thing is obvious: pictures are used all over the world without the consent of their authors leading to image theft – but how is it in Germany? After Copytrack have already published the U.S. Report and a U.K. Report, Copytrack presents its report on "German Digital Image Theft".
Which German cities ranked highest for image theft?
A closer look at the analysis reveals that most image rights offences are committed in the capital, Berlin. Hamburg (7.28%) and Munich (5.96%) follow in second and third place, with only half as much being stolen in Munich as in Berlin (10.10%). Other large cities such as Cologne, Leipzig, Hanover, Frankfurt am Main and Stuttgart occupy places four to eight in the ranking, as well as Düsseldorf with 0.96% rank 10. All the cities mentioned are major cities with at least 500,000 inhabitants. But what's going on in Idar-Oberstein? Idar-Oberstein also makes it into the TOP10 of the German cities with the highest number of image rights infringements and ranks 9th. Despite the significantly lower number of inhabitants (30,000), Copytrack has so many cases of copyright infringements from this region that the district town from Rhineland-Palatinate has made it into the TOP ranking.
For the evaluation Copytrack analyzed all successfully completed image right cases in Germany. For the ranking, the ten cities with the highest number of picture rights infringements in 2017 were identified in a national comparison.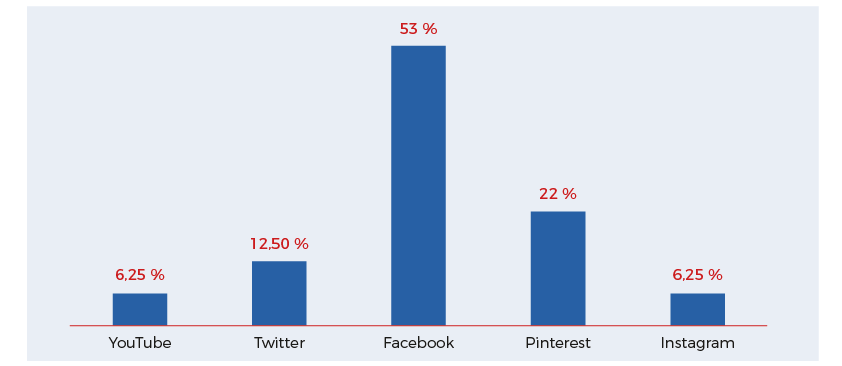 TOP 5 Social Media Platforms in comparison
Instagram alone measures around 800 million active users worldwide each month. 3.7 million of the daily active users come from Germany. According to Internetworld, 80 million photos were uploaded to Instagram worldwide in 2016. Unbelievable figures, so it is not surprising that the social media has become a hot spot for picture theft.
Although Instagram is THE social media platform for images, together with YouTube, it is the rear runner among image rights infringements on social media platforms. Facebook is with 53% the most popular platform to commit image theft. In 2017, 47% of professional photographers placed ads on Facebook, which may explain why Copytrack records more than half of the image rights infringements on this platform, especially on Facebook.
More facts about picture theft in Germany:
• 80% of the used images had exclusive rights.
• 20% of all the images attributed the author.
• 43% of all successful claims were resolved in the post-licensing process.
• 57% of the successful cases were resolved during Copytrack legal enforcement process.
► What amounts were recovered?
If an image was stolen, an average of 360 EUR will be recovered per successful post-licensing in 2017. However, the fees may differ from this value depending on the usage type and duration of use.
per successful post-licensing
► How long does it take to complete a case successfully?
After an average of 81 days, an agreement was reached with the image user in 2017. This depends heavily on the willingness of the image user to accept Copytrack's post-licensing offer. If this is not accepted before a deadline, the case will be put into legal enforcement, which can take a lot longer.
The image rights portal Copytrack represents the copyright of photographers worldwide and deals with copyright infringements on a daily basis. With a self-developed software, the portal is able to detect and track image theft all over the world. Copytrack works on behalf of its customers to resolve copyright infringements. We always take a friendly approach and often turn image users into customers of our users. In the first step, we offer image users the opportunity to subsequently purchase a license for the images in question using the settlement portal, which is usually a solution for both parties. The photographers are thus rewarded for their work and the image users are not faced with high penalties – a happy end for both sides.
*Copytrack has reviewed a selection of cases related to the above websites and image users in Germany.
© COPYTRACK | Jonathan Appleby & Mary Eising